The maintenance of viaducts, bridges and ceilings is expensive, time-consuming and often causes traffic jams.
by-pass the obstacle sequently
the safest in the world // suspended platform always anchored
less physical and mental effort
200 sqm daily installed (3 operators)
The FlyDeck system and FlyRail guides: Suspended structure for maintenance of viaducts, bridges and ceilings
Assemble the Pilosio MP access staircase, install the FlyDeck directly under the deck, and by-pass any obstacles thanks to the use of the FlyRail guides. The beams can be assembled longitudinal or transversely, ensuring the operator always works safely above the suspended deck.
FlyDeck system compared with UK standard suspended solutions
Comparison based on 9000 sqm and 1 team of 3 operators
Truck savings of 13 compared to 23 and CO2 reduction as a result of this
Material savings of 270 tons compared to 480
Time savings with 8 weeks of installation compared to 13
TECHNICAL SPECIFICATIONS
 Loading capacity up to 150 kg/m2 with tie-rods every 6 m2 and loading capacity up to 300 kg/m2 with tie-rods every 4 m2
Seven beam lengths available: 1.0 m, 1.5 m, 2.0 m, 3.0 m, 4.0 m, 5.0 m, 6.0 m
25 cm or 45 cm aluminum beams
Beam connection using two spigots and eight special spring pins that make the connection much faster than using screws and nuts
FlyRail guide 5 m in length, it can also be supplied in two 2.5 m elements or three 1.67 m elements
Registered Community Design
FlyRail guides
they work in pairs

The operators assemble

the

system remaining

safely

above the deck

Fatigue relief is considerable for

workers thanks to the FLYRAIL guide

supporting the

weight of the cantilever

beams

Great speed in carrying out the work

(from 30 to 50% of time saved)

allow longitudinal or transverse assembly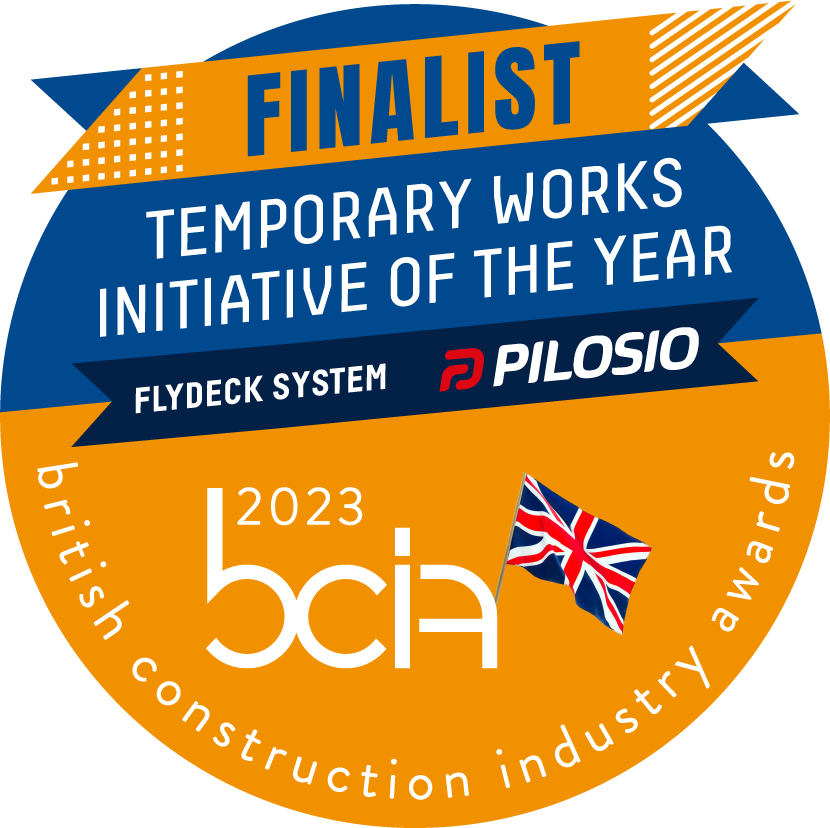 The British Construction Industry Awards, one of the most coveted awards in the UK construction industry, recognise companies and professionals who stand out for excellence in the construction industry. Pilosio was honoured to be selected as a finalist in the 'Temporary Works Initiative of the Year' category, a testament to our ongoing commitment to innovation and exceptionalism.
Come visit us at Pilosio's Access Platforms Aberdeen
Location: Units 1-3 Kirkton Avenue, Pitmedden Industrial Estate, Dyce, Aberdeen AB21 0BF
3 km from the airport
We do training courses and arrange demo days
For more information:
Francesca Fuser – UK Business Development Manager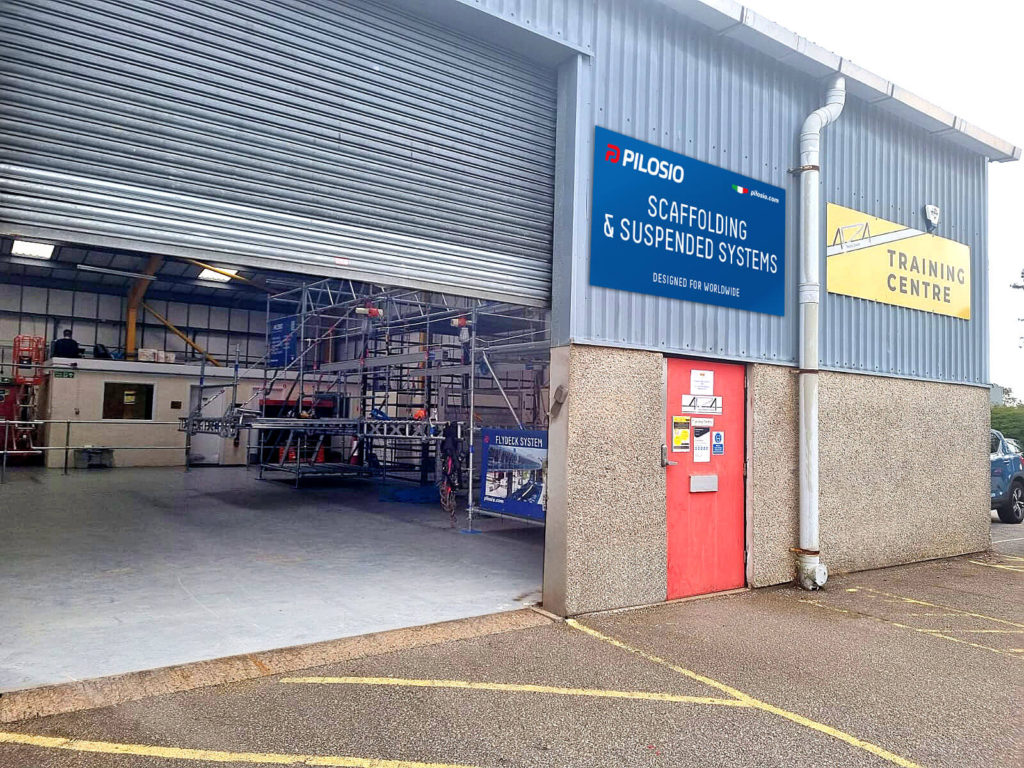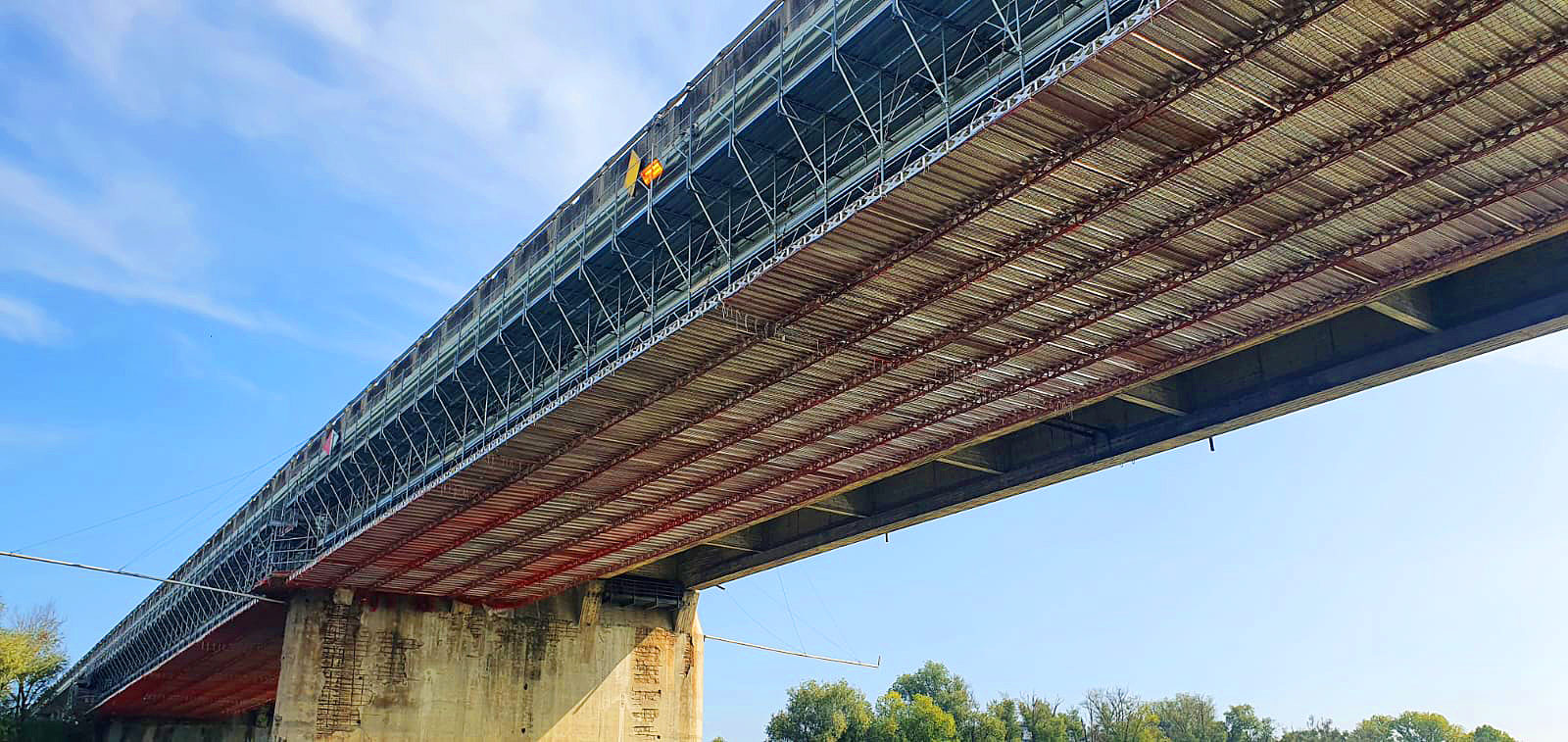 Fill in the form and you will be contacted by one of our consultants as soon as possible